Quote
Where we are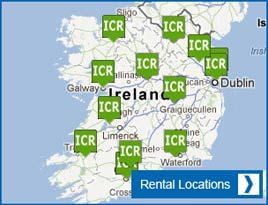 Dublin City Guide
Site Search

Dublin City Customers' Testimonials
Dublin City Car Rental reviews
Irish Car Rentals is a low cost car & van rental business founded in 1984 and served customers for 30+ years for Dublin City location with a fleet of over 5000 vehicles and carry a full range of vehicles; Economy, Compact, Intermediate, Full-size, People carrier and SUV. The vehicles are supplied by Europcar.

These are reviews from Irish Car Rentals customers.
5 out of 5.0 based on 5 Positive Review(s)
"Very good prices. Good cars, new and value for money cars. As well is central in Dublin." - Matteo Fronasier
"Central location Europcar. Friendly staff" - Chris MM Gordon
"I was verry happy with the service that Europcar provided. Everything was excellent!" - Yasen Andreev
"We rent a car for a day. Extremely friendly woman at the desk, and she gave us some tips for traveling in Dublin. After just 6-7 minutes at the service counter we got the car delivered!" - Y.Moustach
"Friendly service, no delays on booking on-line and collecting the car, great offer and convenient location, nice cars" - Valentina Tirendi
To reserve a car from Dublin city location, please visit here.