Van Rental Ireland | Irish Car Rentals
Irish Car Rentals is a leader in car and van rental in Ireland with an extensive nationwide network, so wherever you need to travel we can help. Rent a van with Irish Car Rentals.
Our fleet of modern vans will help you tackle anything. We've got makes and models that range from small and medium commercials, to bigger vans for those larger jobs and even speciality vehicles for those really distinct tasks. With our flexible packages, clear and honest pricing, you'll get the job done without hassle.
Whatever your needs are, Irish Car Rentals has a range of van hire options to keep your costs down.
Van Rental Fleet
Small Vans
Ford Transit Connect or Similar
VIEW DETAILS
Medium Vans
Nissan Primaster or Similar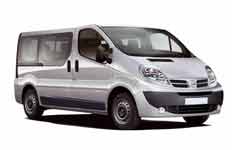 VIEW DETAILS
Large Vans
Ford Transit or Similar
VIEW DETAILS
Speciality Vans
Ford Transit Tipper or Similar
VIEW DETAILS
You can choose our hourly, daily, weekly or monthly van for hire options. Our range of self-drive solutions cater for short term, medium term and long term van rentals.
Van Rental Dublin
Do you need a van rental in Dublin? With four branches across Dublin, we've made it easy to rent a van Dublin. Our Dublin van rental locations are; Spencer Dock, Dublin North and Dublin Airport. At these locations, you get an access to a large fleet of vans to rent in Dublin.
With Irish Car Rentals you get the flexibility to tailor your van rental to suit your needs with our range of extras such as additional drivers, GPS and protection package.
Sometimes you need to move and transport items which simply won't fit in an average car and that's where we can help you to tackle those jobs. Whether you are moving house, transporting large objects, bringing home bulky furniture or disposing of house or commercial waste, our van rental Ireland provides a cheap and easy solution.
Benefits to hire a van with Irish Car Rentals
With great van hire rates, you can always have it your way. Here are just some of the benefits of renting a van with Irish Car Rentals:
✔ Stay flexible with hourly, daily, weekly or monthly hire
✔ Large hire van choice of small, medium, large and speciality vehicles
✔ Pick up at one location, drop off at another location
✔ Take as long as you need with our flexible month+ option
✔ All van rentals include 24 hour breakdown coverage
✔ Extensive nationwide network, so we're always nearby
✔ Multi locations for Dublin van rental
✔ Add an extra driver
✔ No fixed-term contracts – make changes to your booking as you need
✔ Flexible van leasing Ireland options
Long Term Van Rentals
Irish Car Rentals also offers long term van rentals if you are looking to rent a van or a fleet of vans for longer periods.
Find out more about Long Term Van Rental
With Irish Car Rentals, you can rely on:
1. Total Flexibility
The flexibility to change your van type and fleet mix, as you need it or as your business requires. Not being tied to a restrictive contract, like car or van leasing, you have the flexibility to change your van fleet mix to suit you.

We also won't penalise you for any early vehicle returns.
2. Adjustable Fleet Size
At Irish Car Rentals, we understand that your vehicle requirements will change. You can increase or decrease your van fleet size depending on seasonality or unforeseen change.
3. Service & Maintenance Covered
We know how important cost management is. With Irish Car Rentals we include all vehicle servicing and maintenance in our pricing, so that's one less thing for you to worry about. This also covers road tax.