What is the Sky Road Connemara?
If you have spent any time around the Irish postcard racks, you have seen pictures from the Sky Road in County Galway. The most famous image displays the beautiful village of Clifden nestled among the verdant hillside with its church steeples pointing to the sky. The amazing thing about the scene is that on any reasonably clear day, virtually anyone with a camera can snap a postcard-worthy shot.
How long is Sky Road?
While the view of Clifden may steal the show early in the trip, the treasures of the exhilarating 11km/7mi Sky Road route keep getting better with phenomenal views of Clifden Bay, Streamstown Bay, and the Atlantic Ocean out one window, and the stunning Irish landscape out the other. Read what people are saying about driving the Sky Road on Tripadvisor.
Where does Sky Road start?
Clifden
The journey begins in the largest town in Ireland's Connemara region. Colorful buildings line the street with shops and restaurants that make up the town centre. Signs for the Sky Road direct visitors to the start of the drive on the west side of town.

Image credit ©Chris Hill - Ireland Content Pool
The D'Arcy Monument
About 3/4 a mile outside of town near the Abbeyglen Castle Hotel, a sign marks the footpath to Memorial Hill. A small monument commemorates Clifden's founder John D'Arcy. The view of town from this spot is spectacular with the 12 Ben Mountains in the background.
Clifden Castle
The castle gatehouse first comes into view on your left. Visitors are allowed to park their car and walk the farm road that leads to the ruined castle. Otherwise, it can be viewed from a distance by driving up the Sky Road and looking down the hill toward Clifden Bay.
The Low Road
As you continue up the hill, the road will split. To the left, the Low Road; to the right, the Sky Road. The Low Road runs along the sea parallel to the Sky Road, and the two reunite in a few miles.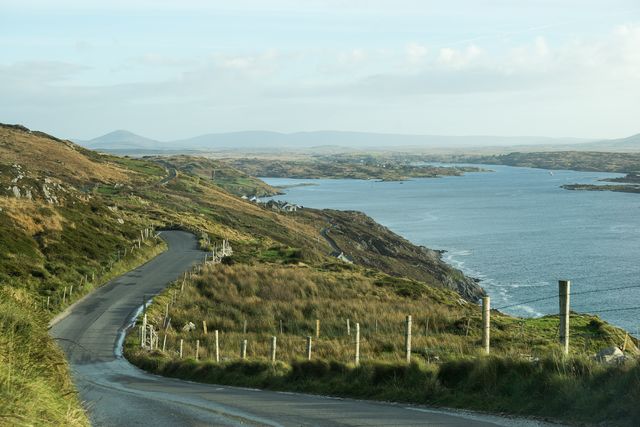 Image credit ©Christian McLeod - Ireland Content Pool

Old Coast Guard Station
Visible on the left along the Sky Road is the 1875 Coast Guard Station which has been remodeled into vacation rentals. Along this route, the road rises to over 500 feet above sea level.
Scenic Overlook
At the summit of the Sky Road, a car park offers breathtaking views of coastline.
Eyrephort
At the end of the peninsula, the Sky Road and the Low Road reconnect, and the Sky Road circles back toward Clifden.
Streamstown Bay:
As you follow the Sky Road back toward Clifden, you will enjoy views of Streamstown Bay. Along the way, you will pass a green Connemara Marble quarry before meeting up with the N59 which is the main road between Clifden/Westport.
Other driving routes in Ireland: