Quote
Where we are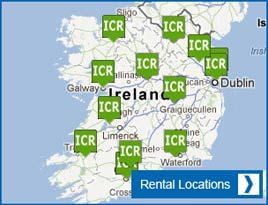 Shannon Airport Ireland Guide
Site Search

Car Rental Shannon Airport
We Will Not Be Beaten on Price
Irish Car Rentals offers a price promise - "We Will Not Be Beaten on Price" on all rentals from Shannon Airport. We will match or better any quotes from another direct car rental supplier in the Republic of Ireland. We believe you will not be able to beat our rental car rates however if you can - please call Irish Car Rentals to verify the quote you received. Read more here.
Irish Car Rentals at Shannon Airport
Irish Car Rentals offers cheap car hire with a full range of vehicles from Compact, Intermediate, Full-size, People carrier and luxury. Europcar provides the fleet hire for Irish Car Rentals customers.

Shannon Airport Ireland
The gateway to locations such as Limerick, Ennis, and Galway, Shannon is the third busiest airport in Ireland and handles more than 1.5 million passengers a year through its gates. It's located just outside the town of Shannon, about 25 kilometres west of Limerick. Much of the airport's business comes from UK and US flights with Aer Lingus, and European flights by Ryanair. However, there are many seasonal services travelling across the Atlantic through Delta, American and United Airlines.
Irish Car Rentals offers an convenience car rental Shannon Airport with easy access to West Ireland; a gateway to Galway, Wild Atlantic Way and the Ring of Kerry. It is also close to the motorway leading to Dublin.
The Burren
Found throughout Co. Clare are some of Ireland's most remarkable natural wonders, as well as some of its most ancient discoveries. The Burren, a prominent location featuring in the Wild Atlantic Way driving tour, is made up from over 250 square kilometres of unique, almost alien landscape, with rolling hills of limestone pavements crisscrossed and separated by deep cracks, called grikes, that support incredibly varied types of plant life, including some tropical species that grow nowhere else at this latitude, thanks to its singular ecosystem.

The Burren is also home to several portal tombs, the most well-known of which, Poulnabrone Dolmen which means 'hole of the quern stones', dates back to somewhere between 4200 and 2900 BC. The lid is a 3.5-metre slab of limestone balanced on two slim, upright stones about two-metres-tall and cover a ten-metre deep cairn, or burial chamber.
The Cliffs of Moher
The Burren reaches all the way out to sea but where it's been cut off from the mainland, it forms the Aran Islands that lay in the water, intersected with ancient stone walls. And towering overhead of those islands, under relentless attack from the strong Atlantic tides, are the mighty Cliffs of Moher.

Measuring around 120-metres-tall at Hag's Head, right up to nearly 214 metres at their highest point just north of O'Brien's Tower. Built into the hill side, just back from the cliff-face, is the Cliffs of Moher Visitor Centre which exhibits interactive displays about the local history, geology, plants and wildlife.

The Cliffs of Moher are also one of the many highlights that can be found along the Wild Atlantic Way, and this airport is the ideal starting point for those looking to pick up a car hire Shannon Airport to begin their Wild Atlantic Way adventure nearer the middle of the tour, as opposed to beginning in Donegal or Cork.
The Shannon Estuary
Surrounded on all side by towns and small fishing villages, the enormous Shannon Estuary is where Ireland's longest river flows into the sea. The river mouth offers many opportunities for water sports, pleasure boating, and fishing, particularly salmon, brown trout, sea trout and eel angling. Shannon Estuary Drive is a 207km loop developed by FĂ¡ilte Ireland.
Shannon Airport Hire Desk
The car rental desk is located for your convenience in the flights arrivals hall, after you exit customs, the Irish car Rental desk will be located straight in front of you. Our team of friendly staff will be ready to help you get on the road as quickly as possible.

Van Hire
Shannon Airport Van Hire services customers who are looking to rent a small or large commercial van hire. Hire vans midweek or weekends can be done on short rental or long term hire.
One Way Car Rental
is available from collection at Shannon Airport to anywhere in Ireland.
Our Address:
EUROPCAR Desk,
Arrivals Hall
Shannon Airport
Co Clare
Ireland
Our Contact Numbers:
Telephone Number: +353 61 206040
Fax Number: +353 61 471096
Emergency Telephone Number: +353 1 844 1944
Email Address: rent@carhire.ie Contact Us
Opening Times: Opening Times
Public Transport
Public and private bus stops are located just outside the airport terminal (look to your left). The taxi rank is positioned just outside the airport terminal.

There is no rail service to Shannon Airport, but buses can swiftly deliver passengers to train stations in Limerick and Ennis. In total there are 142 bus services daily at Shannon Airport with 136 operated by Bus Eireann and 6 operated by JJ Kavanagh & Sons.

Car Rental Limerick is available from Shannon Airport location. If Dublin Airport is a preferred choice, read here for rent a car dublin airport information If you have any enquiries regarding car hire in Shannon Airport, please do not hesitate to contact us.