Kilmainham Gaol
Part of the allure of a holiday in Ireland is the country's drama and history. This is a land ripe with legend and myth; however, you don't have to dip into ancient history to find compelling – often heart-wrenching – stories. Kilmainham Gaol is a prime example of this.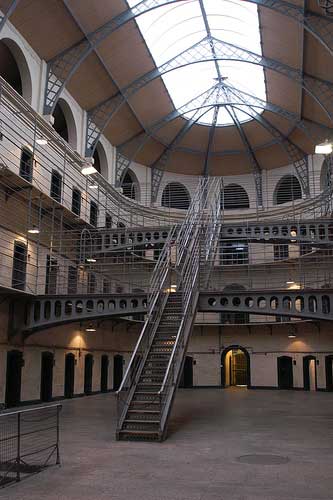 Kilmainham Gaol. Photo credit by: thetejon
In the 18th century, revolutions and uprisings against English rule began to ripple through Ireland. Power often shifted between small groups and factions, and the English maintained their hold on the island by consolidating their power and cracking down harshly on dissenters. This is the climate under which the gaol (or prison) was built.
Construction on Kilmainham Gaol completed in the 1790s, and it was put to immediate use. An uprising was put down in 1798, and the leaders behind it were imprisoned here. This was the first of many waves of revolutionaries to spend time in the gaol. Early on, hangings were regularly staged out in front, though this went out of practice for most of the 19th century.
Executions surged with the 1916 Easter Rising. The leaders were all confined to Kilmainham Gaol. Fifteen high-profile executions were held in early May of that year, and all but one of them were staged here. This was a bloody, but formative time in Irish history, and it solidified Kilmainham Gaol's iconic role in Irish independence.
The gaol went on to house prisoners of the Irish Free State during the Civil War of the 1920s. Shortly thereafter, Kilmainham Gaol was closed, and some even wanted to convert it to an Easter Rising memorial at that point. However, restoration didn't complete until the 1970s.

Plaque remembering the Execution of the Leaders of the Easter Week 1916
Photo credit: ralpe
Today, a visit to the gaol is a must for anyone interested in the history and heritage of Ireland. An audiovisual exhibit goes into detail on the history of the prison, and guided tours are available.
Things to do in Ireland related articles: