Quote
Where we are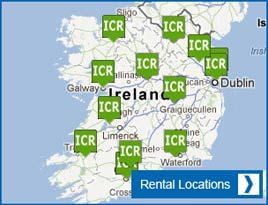 Waterford City Guide
Site Search

Waterford Location
Irish Car Rentals operate a Waterford car hire depot a few kilometres' drive outside of the city. It's located in the town of Kilmeaden at the Sweep Garage. From here, all it takes is a short drive east along R680 to reach Waterford city.
The Waterford car rental depot is convenient for other reasons, as well. It only takes two minutes to reach the M9, which puts you at an important crossroads that ties several important Irish cities together. From here, drivers can easily connect to Cork (1 hour, 30 minutes), Dublin (1 hour, 30 minutes) and Limerick (2 hours).
There are many reasons to hire a car in Waterford, not least the convenience of being able to pick up your vehicle and drop it off at another Irish Car Rentals location elsewhere in Ireland. This makes touring the Irish countryside more convenient than ever.
If you have any enquiries regarding car hire in Waterford, please do not hesitate to contact us.