Quote
Galway City Guide
Site Search

Top 10 things to do in Galway
There's no shortage of entertainment, amenities and fun to be had in Galway. With a breath-taking Atlantic coastline, cosy city pubs and the lively festival scene, Galway has got so much to give. For families, friends, and significant others the lure of Galway is impossible to resist.
1. Galway Races
Galway Races are held for a week at the track in nearby Ballybrit beginning on the last Monday of every July. It's a great chance to have a flutter and a chance for lovers of horses to attend one of the biggest racing events in the world. Glamour is paramount as ladies don their finery for the 'Best Dressed Lady Competition'. An event which is almost as hotly contested as the races themselves!
Credit to
Tourism Ireland
2. Galway International Oyster Festival
Galway International Oyster Festival kicks off the month of September. It has been a gourmet's paradise since it was first held in 1954. Two international oyster-opening competitions are held during the festival and the tradition is to wash down your freshly opened oysters with a hearty slug of Guinness. Stout stomachs only, need apply!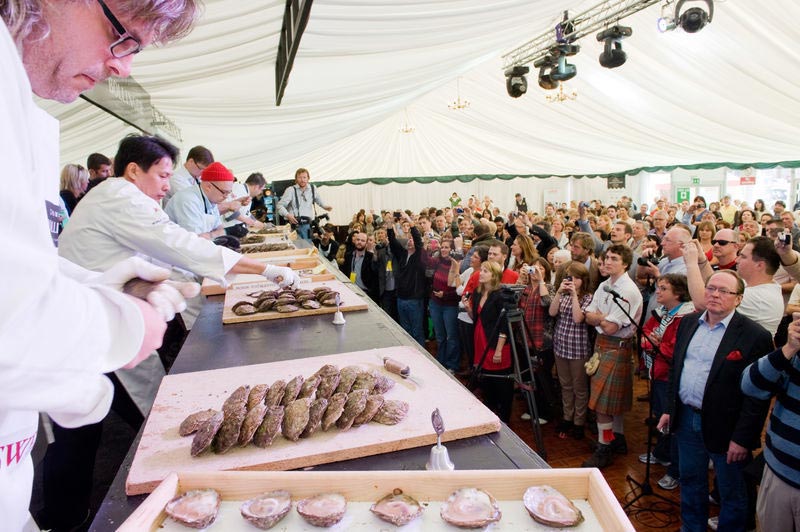 Credit to
Tourism Ireland
3. Irish Language Theatre
Now if you thought Galway was only geared towards party animals; then you would be very wrong. Though the city is home to some of the best traditional musicians to ever draw breath; there's another layer of craft at work. Galway is home to Ireland's Irish language theatre, An Taidhbhearc, and the influential touring Druid Theatre Company among whose accolades are four Tony awards, for their world premiere on Broadway of 'The Beauty Queen of Leenane' by Martin McDonagh.
4. County Galway
The County of Galway must not be forgotten however. Its beauty has been praised in song and verse for centuries. How's about a bar of 'The Fields of Athenry' just to get those vocal chords warmed up?
5. Athenry
Athenry itself is a mere 16 miles east of Galway city, on the main Galway to Dublin rail line. An impeccably restored medieval castle awaits you there and an excellent Heritage Centre explains what life was like at a medieval hub of the tribal dynasty of the Uí Máine.
6. Salthill town
Salthill is worthy of its status as one of the country's best loved seaside towns. On the doorstep of Galway city, there's no excuse not to dust off your old bucket and shovel, or perhaps a stroll on the Prom is more your style.
7. Leisureworld Water Park
For days when the weather won't co-operate, the aquatic playground known as Leisureworld Water Park is a godsend!
8. Aran Islands
The karst limestone
Aran Islands
have a mythical quality. With ferries leaving from Rossaveal year round, a trip to any of the islands will entrance. The area is a designated Gaeltacht and Dun Aonghasa, a spectacular Iron Age Fort on Inishmore is a treasured archaeological monument.
Credit to
Tourism Ireland
9. Kylemore Abbey
Kylemore Abbey and the Victorian Walled Garden are situated on the grounds of Kylemore Castle. Visitors can stop by for afternoon tea and a perfect photo opportunity.
10. Connemara National Park
Exquisite scenery, dramatic history and diverse flora and fauna make for a naturalist's paradise at the Connemara National Park. With so much to watch and learn it is definitely more than just a pretty place!
Let Galway enchant you!
Things to do in Ireland related articles: