Medium Van Rental in Ireland
Medium sized vans are one of the most commonly used vans in Ireland and it's no wonder that thousands of businesses across the country are using them on regular basis.

Our medium van fleet have 2.8m³ - 5m³ load capacity and has enough space for transporting and moving heavy & bulky objects. Medium sized vans offer a comfortable driving experience, ideal for longer journeys along with great fuel economy.

Irish Car Rentals offer a large selection of well-maintained and modern medium van rental options to help you meet all the needs and requirements for your business or domestic projects.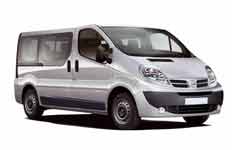 View other van sized options on our van rental page.
Call us today at 01-8122899 for a quote or complete this contact form and we will be in touch shortly.
With Irish Car Rentals you can rely on:
1. Total Rental Flexibility
Irish Car Rentals gives you the flexibility to change your medium van hire type and fleet mix, as you need it or as your business requires. Not being tied to a restrictive contract, like car or van leasing, you have the flexibility to change your van fleet mix to suit you. We also won't penalise you for any early vehicle returns.
2. Adjustable Fleet Size
At Irish Car Rentals, we understand that your vehicle requirements will change. You can increase or decrease your van hire fleet size depending on seasonality or unforeseen change.
3. Service & Maintenance Covered
We know how important cost management is. At Irish Car Rentals, we include all vehicle servicing and maintenance in our pricing, so that's one less thing for you to worry about. This also covers road tax.
Benefits of Renting with Irish Car Rentals:
✔ Rolling fixed rates – you only pay when you rent
✔ Adjust your van mix as your business needs
✔ Extensive nationwide network – we are always nearby
✔ One of the biggest fleets of cars and vans in Ireland
✔ Full van customisation available if required
✔ No hidden costs
✔ No long-term leasing contracts necessary
✔ Service and maintenance included
✔ Expert team of account managers
Call us today at 01-8122899 for a quote or complete this contact form and we will be in touch shortly.
Enquire about Medium Van Hire
Enter your details and one of our representatives will contact you.