Quote
Kerry Airport Guide
Things to do in the area
Plan Your Trip
Driving Routes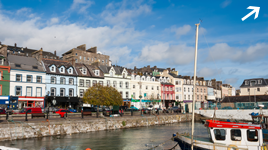 Visiting Cork City
Site Search

Kerry Airport Facilities
There are a wide variety of facilities available at Kerry airport. In the departure lounge, you will find a gift shop which contains a range of the latest perfume, alcohol, chocolates, jewellery and of course magazines and books. There is also a restaurant and a fully licensed bar which has a great selection of snacks, hot and cold meals, wine, spirits and beers. Some other services available are the Bureau de Change, telephones, baby changing area and Wi-Fi is also available in the lounge area.
Shops and restaurants:
Kerry Airport features a restaurant in the main hallwhich provides wine, spirits and hot/cold meals.Kerry Airport also has a fully licenced bar situated in the main terminal building.
Bureau de Exchange
Located at the customer service desk in the main hall, most major currencies are exchanged as well as travellers cheques.
Wireless Broadband
Kerry Airport now has full WiFi broadband in the airport. People wishing to connect need to visit customer service.
Full W/C and Baby Changing Facility
Located next to the restaurant and bar in the main concourse.
Parking
Kerry Airport supports both short term and long term parking needs. The short term car park charges by the hour and the long term per day.
To help make your experience of travelling through and car rental at Kerry Airport as enjoyable as possible, Irish Car Rentals.com have compiled a guide detailing all major points of information.