Quote
Where we are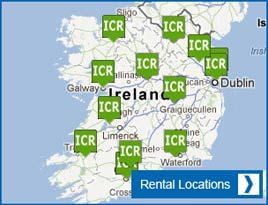 Galway City Guide
Site Search

Galway Location
Galway is an ideal base from which to explore western Ireland. While buses do operate service between local towns and cities, it's preferable to travel in your own vehicle. Not only does this free you up to travel according to your own itinerary, but it also allows access to more out-of-the-way sites and lesser-known attractions. Galway car rental is also more affordable than the taxies that queue at Bridge Street and Eyre Square.
The Irish Car Rentals Galway car hire depot is located at the Motorpark on Headford Road. It lies between the city centre and the airport along the N6. The Motorpark can be reached from the airport in about ten minutes via the N6. As you approach the Kirwan Roundabout, the Motorpark is located on the left-hand side. From here, it's another five or six minutes' drive to hotels in the city centre.
Anyone planning on doing their own driving in Galway is advised to go on foot as much as possible in the city centre. Most hotels provide dedicated parking for guests, and there are also a range of public and private
parking facilities
available throughout the city. Virtually all of the centrally located sites are easy to reach, including Salthill, which takes about 20 minutes reach on foot.
However, when it's time to strike out and explore Western Ireland, you will be glad to have Galway car hire at your disposal.
Sky Road route
is a popular among the tourists & locals even! The following are some of the most appealing destinations to drive to from Galway.
The Burren (23 miles south of Galway)
The Burren is a rocky and barren stretch of countryside that extends between counties Galway and Clare. Limestone pillars and outcroppings populate the landscape, alternating with medieval ruins and ancient tombs. The local towns Doolin and Kilfenora are both worth visiting while here.
The Cliffs of Moher (50 miles south-west of Galway)
The Cliffs of Moher are one of Ireland's most popular tourist attractions, and for good reason. These green, rocky headlands rise some 600 feet over the surface of the sea, offering spectacular views and hosting dozens of species of exotic birds. With cheap car hire from Galway, you can leave early, beat the tour buses and explore the Cliffs of Moher in relative peace and solitude.
Connemara
There are no exact borders demarcating the Connemara zone, a highlight of driving tours in Ireland. The fluted coastline makes for a spectacularly scenic drive on Route 336, and there are several small towns and hamlets worth stopping off at along the way. Irish Gaelic is still spoken throughout this area.
Aran Islands (25 miles west to ferry departure point at Rossaveel)
This archipelago of three islands is one of the finest attractions in Ireland. The star attraction here is Dun Aengus, which perches on a cliff about 300 feet over the Atlantic Ocean. The walls of this fort are 12 feet thick in some places, and the entire construction is thousands of years old. Many other Iron Age structures are found on the Aran Islands.
To get to the
Aran Islands
from Galway, drive out of town on Route 337, which joins Route 336 and continues to Rossaveel, where ferries depart for the Aran Islands.
If you have any enquiries regarding car hire in Galway, please do not hesitate to
contact us
.