Quote
Where we are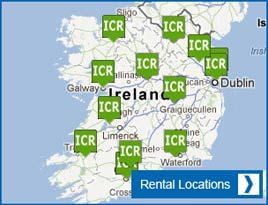 Dublin Airport Ireland Guide
Site Search

Dublin Airport Returns Map
Irish Car Rentals has designed an car hire return map for Dublin Airport location to make your experience easier.
If returning from Galway / Athlone / West Ireland, you'll find yourself travelling on the M50 Ring road which brings you to the airport depot easily. If travelling from the city centre, there are a few routes that bring you to Dublin Airport, M50 ring road (Tolls), M1 main road or R132 local roads.
The map below gives you directions to
car rental Ireland Dublin airport
's depot.

View large scale of Dublin Airport Returns Map (Printable)
Dublin Airport address
Dublin City to Dublin Airport is 10km north and the address is Dublin Airport. Co. Dublin, Ireland
Where do I return the car at the airport?
You will be provided a rental returns map when you collect the vehicle for guidance. When you are approaching Dublin Airport, follow the rental signage and you will be directed to Irish Car Rentals/Europcar, Hertz, Budget/Avis offices. Please go to Europcar Dublin Airport depot to drop off your rental.
Can I return a car at another location?
You can return the car at any of our rental locations however charges may apply. You will be able to see what charges may if you check on the booking engine. Our other locations are Dublin City, North Dublin, Navan, Athlone, Cork Airport, Galway, Shannon Airport, Kerry Airport and Knock Airport.
What to expect when returning a car?
Once you drop the car off, a staff will greet you and check over the car for any damages, how much fuel is in the tank and sign you off. You will be transported to the airport by a complimentary shuttle bus.
What if I'm running late?
Irish Car Rentals allows a 1 hour grace period at the end of your rental. This means on the final day of your rental we allow 1 hours free rental time. Please note that the starting rental time and date indicated on your rental agreement determines the start of your rental. The grace time is counted from that time not the time you actually sit in the rental car and leave our facility.
Pick ups
For rental pick up, please see the Dublin Airport map to guide you.
If you have any questions about car rental in Ireland, please contact us.