Quote
Where we are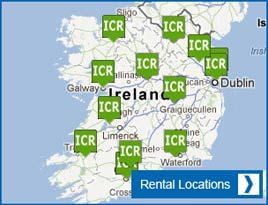 Ireland Driving Distances
Planning your trips to Ireland and hiring a car to see the remote areas can be easy, Irish Car Rentals has provided an distance chart where journey times chart and an driving distance calculator to help you plan efficiently.
It is worth mentioning now that traffic in Ireland, especially during the peak tourist seasons in June, July, August and September can be very heavy around our major cities and tourist attractions. Please allow plenty of time to cover the journey.
To use, simply select your departure point, then your arrival point. The distance will then be displayed. You can then toggle between driving distances in miles or driving distances in kilometers.
The distance journey times chart gives you a rough idea how long it would take from one destination to another, we have listed the most common places in Ireland.
Please use the driving times chart as a guide only.

Please bear in mind these are informational guides. Irish Car Rental locations can be found on the map below;
Scenic driving routes : One of the best ways to explore Ireland is by taking road trips, we have complied a couple Ireland's scenic drives to get you started!