Quote
Where we are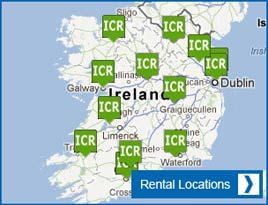 Attractions in Cavan
There's a lot to see and experience in Cavan, beginning with a few historic attractions in and around the town centre. With a Cavan rental car, you can easily escape to the countryside to view ancient ruins and prehistoric sites, as well. 
Cavan Bell Tower
Located on Abbey Street, this is perhaps the most iconic structure standing in Cavan today (in other words, you're going to see this one featured heavily on local postcards). It was built along with the Franciscan friary (St Mary's Abbey) in the 14th century and is all that remains of the original structure. Even so, the legacy of the abbey lingers. Its stones were used to build many of the structures that stand in the town centre today.
Kilmore Cathedral
Also referred to as the Cathedral of St Feidhlimidh, this church is located a few kilometres south-west of Cavan town in the small community of Kilmore. It would be just another small Irish cathedral if not for its magnificent Romanesque arch, which was built for St Mary's Abbey and then transported here when the church gained cathedral status in the 15th century.
Cathedral of Saints Patrick and Felim
This building as it stands today is a relatively young structure (started in the late 1930s). However, it's the latest emanation in legacy cathedrals that began in the 6th century. The original church passed to the Church of Ireland during the Reformation. Today's Roman Catholic church in Cavan is an impressive feat of architecture, complete with Corinthian columns and high-flying spires.
Cavan Courthouse
As you're driving through Cavan town, one of the most striking structures will be the courthouse on Farnham Street. It was built from locally sourced sandstone in the 1820s and still hosts local government offices today. The statue in front was erected in honour of Thomas Ashe, a freedom fighter who stood in opposition to English forces during the 1916 Uprising.
Cavan Crystal Showroom
Crystal was first produced in Cavan centuries ago, though the local specialty didn't really gain international traction until the 20th century. While the industry has seen its ebbs and flows, locally produced crystal is still a sought-after product. The town's crystal factory – located on the N3 south-east of the town centre – is the second-oldest in Ireland and operates a showroom where visitors can browse fine crystal products.
Cloughoughter Castle
This attraction is best visited with a hire car from Cavan town. It stands on an island at the centre of Lough Oughter in the Cavan countryside. Construction probably began in the 13th century, and the O'Reilly clan seized control shortly after and filled out the construction. Irish revolutionaries held it during the 17th century, after which it fell into ruins. Â Â Â 
If you have any enquiries regarding car hire in Cavan, please do not hesitate to contact us.