Quote
Where we are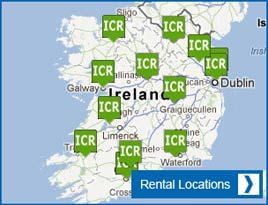 Activities in Cavan
Cavan surprises visitors with a long list of activities – everything from golfing and hiking to shopping and catching a trad music session. You can stay as busy (or as relaxed) as you prefer while in the county, especially if you have the freedom that comes with hiring a car in County Cavan. Check out the following for details on popular activities in the area:
Hiking
The county is criss-crossed with easily accessed walking trails. Drive any direction into the countryside, and you'll come across trailheads with nearby parking. Available walks vary in length and lead to prehistoric sites, ancient ruins and scenic overlooks. The
Cavan Walking Guide
will get you started on planning an outing on two feet.
Angling
Cavan has enough
loughs
(lakes) for anglers to visit a different one every day of the year – even in a leap year! If you're interested in casting a line during your visit, you'll find several outfitters in the city who can set you up with all the gear and tackle needed to make a day of it. Likewise, it's also possible to book packaged angling tours through most of the hotels and bed and breakfasts in County Cavan.
Golfing
Golfers are well-looked-after wherever they venture in Ireland. But be warned: the locals joke about the views distracting them and ruining their shots. A total of eight golf courses are found here in the county, some of which are located close enough to Cavan town to visit on a whim.
Shopping
Cavan is a rising star on Ireland's shopping scene, due in large part to the local town council launching nationwide promotional campaigns. Most of the shops and boutiques in the town centre are located along Main Street as well as at the farmer's markets on Friday (at the Egg Market) and Saturday (at McCarrons Shop) mornings. The most popular purchase in Cavan is, without a doubt, fine Cavan crystal, which has been produced here for centuries. 
Listen to Music
The music scene is rich in Cavan. Several pubs and bars in the town centre offer traditional music sessions, or you can catch a contemporary performance at local performance and arts centres. Contact the Cavan Arts Office for information regarding special performances and festivals during your visit.
If you have any enquiries regarding car hire in Cavan, please do not hesitate to contact us.