Quote
Where we are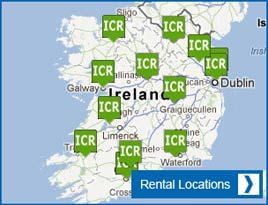 Portlaoise Town Guide
Things to do in the area
Portlaoise Car Hire
Portlaoise Car Rental
Irish Car Rentals offers cheap car rental service at the gateway to Ireland's south and south-west regions. This is a vibrant, provincial town with its own collection of shops, pubs and sightseeing attractions – most of which are within easy reach of hotels and bed and breakfasts near town centre.
Drivers who book a rental car in Portlaoise through Irish Car Rentals enjoy a full list of amenities at cheap rates. All of our rental cars include the following:

24 hour breakdown cover, theft protection and unlimited mileage. Irish Car Rentals carry a full range of vehicles (Economy, Compact, Intermediate, Full-size, People carrier, SUV) to suit your budget.

Portlaoise may not have the well-oiled tourist infrastructure of Dublin or even Limerick – though many would say that's part of its appeal. The Rock of Dunamase is famous in its own right, and draws tourists from other parts of Ireland. Just outside of town, the Slieve Bloom Mountains make for a scenic afternoon drive.

The following are amongst the leading visitor attractions in Portlaoise:

Rock of Dunamase
The primary tourist attraction in this region is located 6 miles outside of Portlaoise, with signposts visible on the N80. Standing on a rocky outcropping overlooking the town are the ruins of Dunamase Castle, which date to the 12th century. In the space of about 200 years, the castle was completely destroyed, so these ruins have been part of the local landscape for centuries. A few arches are still standing, but the real attraction is the view of the town and the Slieve Mountains visible from this outpost.
O'Moore Park
Home to the Laois Gaelic football and hurling teams, O'Moore Park dates to 1888. This is a popular pitch, and it's often used as a neutral stadium for teams from elsewhere in Ireland. With that in mind, visitors have ample opportunity to catch a Gaelic football match while in town. Consult the Laois GAA website for details on upcoming matches.
Slieve Bloom Mountains
These rolling, green mountains amble through the countryside around Portlaoise, and they links County Laois with County Offaly. Those who have a rental car in Portlaoise can easily make a day trip or even a weekend outing of visiting the mountains. Along the way, visitors enjoy spectacular views over the Irish midlands. Hiking, cycling and horseback riding are all popular activities here.
Kilvahan Horse Drawn Caravans and Adventure Farm
This restored working farm is a charming attraction located outside of the Portlaoise city centre in Coolrain. The farm itself offers full facilities, including picnic gardens, a children's play area and a pet-zoo with sheep, pigs, goats, llamas and miniature ponies. There are even a camel and zebra in the mix. However, the highlight is the horse-drawn caravan experience, which allows visitors to tour the countryside in old-world fashion, stopping off at country pubs and rural farmhouses along the way. Caravans are fully equipped for overnight outings, and renting one out involves some training before setting out.
Portlaoise Pick Up Location:
Picking up your rental car at the Irish Car Rentals's Portlaoise depot is easy. It is located along R445, just north-east of the town centre. Once you have picked up the rental car, it only takes about five minutes to drive into the town proper. There is a service station next to the depot, making it easy to fill up the petrol tank. From there, simply drive along R445 to the N80 and enter Portlaoise.
Returning Your Car Rental:
To return your Irish Car Rentals rented car, you will receive a return map and written directions when you pick up your Car.
Our Address:
EUROPCAR, C/O Downey's Autostop
Dublin Road
Portlaoise
Co Laois
Ireland
Our Contact Numbers:
Telephone Number: +353 57 8662992
Fax Number: +353 57 8621549
Emergency Telephone Number: +353 1 844 1944
Email Address: rent@carhire.ie Contact Us
Opening Times: Opening Times
If you have any enquiries regarding car hire in Portlaoise, please do not hesitate to contact us.