Quote
Where we are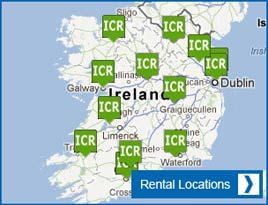 Dublin City Guide
Site Search

Car Rental Dublin
We Will Not Be Beaten on Price
Irish Car Rentals offers a price promise - "We Will Not Be Beaten on Price" on all car rentals in Dublin Ireland. We will match or better any quotes from another direct car rental supplier in Republic of Ireland. We believe you will not be able to beat Irish Car Rentals' rates however if you can - please call Irish Car Rentals to verify the quote you received. Read more here.
Rent a car in Dublin with Irish Car Rentals
Irish Car Rentals offers cheap city car hire in a convenience location in Dublin. The office staff will be waiting to guide you through the car hire procedure.

Fleet
With cheap car rental prices and a full range of rental fleet types; Compact cars, Intermediate cars, Family cars and Luxury vehicles - you can rent a car Dublin to meet your budget and space requirements.
Dublin, Ireland
When in the centre of Dublin, you'll discover that you're right in the heart of one of Europe's liveliest most charismatic cities. The vibrant buzz of the city itself, along with the charm and welcoming nature of its locals, compensate more than adequately for a little rain or the occasional brisk breeze.

Any time spent in Dublin can never be called misused. Just sampling the local atmosphere and chatting with the people is a worthy pastime in itself. Being a European capital, Dublin also has a wide choice of dining opportunities as well as shopping, but there are plenty of dublin points of interest and ways to pass the time.

The Guinness Storehouse
Classed as one of the top 10 things to do in Dublin is The Guinbess Storehouse. Over by St James's Gate, on the site of the very brewery where Arthur Guinness bought the lease that was good for 9000 years, back in 1759, is the museum and exhibition dedicated to the tradition, history and production of, possibly, the world's most famous pint of beer.

The main entrance is called the Atrium and doubles as the world's largest pint glass. From there, the tour takes you through the entire brewing process, demonstrating how natural ingredients, a time honoured tradition, and the use of modern technology come together to create the famous black stout.
The Guinness Storehouse can be found on the south side of the river, about a kilometre west of Dublin Castle.
Phoenix Park
Phoenix Park is 707 hectares of parkland found right in the heart of Dublin, originally founded as a Royal deer park in the 17th century, it's since become one of the largest enclosed parks of any capital city in Europe.

Over 30% of the park has tree cover, while a herd of Fallow Deer roam freely, having enjoyed its home in the park for over 350 years. Dublin Zoo is inside the park, so you are likely to see far more wildlife than just deer as you explore. In the park as well are the Victorian Peoples Flower Gardens, ornamental lakes, a picnic area, and a children's playground. Refreshments in the Park can be found at the Phoenix Café and the Victorian Tea Kiosk.
Dublin Location:
The Irish Car Rentals location in Dublin City Centre is located at 26 Lombard Street, Dublin 2 and is serviced by Europcar. Situated opposite Trinity College and a stone's throw from the River Liffey, Irish Car Rentals Dublin offers an ideal base for those visiting both local and further afield with a city car hire.
Dublin Airport car rental is also available for pick up instead.

One way Car Rental Dublin is available from the city to the airport airport or any of our locations in Ireland.

Dublin Van Hire Service
Irish Car Rentals offers Ford Connect Cube and a Ford Transit vans for hire for those looking to transport large items or for a commercial van hire use. Midweek or on weekends, short as one day or long term rental are available.
Returning Your Car Rental:
From the M50, take exit 7 to N4 East towards the City Centre. Continue past Hueston Station towards Victoria Quay; proceed along the quays city bound to Customs Quay. from Eden Quay drivers have to go left, around Beresford Place then straight onto the bridge crossing the river Liffey, taking the slight left on to City Quay then take the slip road right onto Lombard Street. Turn right onto Pearse St then take the first right onto Marks Street.
Our Address:
EUROPCAR Office
26 Lombard Street East
Dublin 2
Co Dublin
Ireland
Our Contact Numbers:
Telephone Number: +353 1 6707890
Fax Number: +353 1 6707844
Emergency Telephone Number: +353 1 844 1944
Email Address: rent@carhire.ie Contact Us
Opening Times: Opening Times
Car Rental Dublin Map
Public Transport
Dublin City is serviced by more than 900 buses each day with bus stops serviced primarily by Dublin Bus and other providers offering services to destinations around Ireland.

Taxi fares from Dublin Airport to the City Centre typically costing €25.

Dublin Port is Ireland's main arrivals for Ferries from Wales and England. The Dublin port location is 3.4km away to Dublin city centre with 15 minute bus services into the city. Dublin port car hire services is available from Lombard street.

If you have any enquiries regarding car rental Dublin Ireland, please do not hesitate to contact us.