Quote
Where we are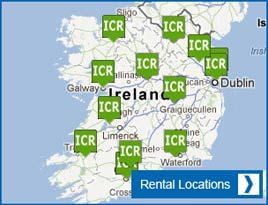 Dublin Airport Ireland Guide
Site Search

Car Hire Dublin Airport
Price Match Guarantee
For car hire Dublin Airport, Irish Car Rentals offers a price match promise - "We Will Not Be Beaten on Price" on all rentals.

We will match or better any quotes from another direct car rental supplier in the Republic of Ireland. Read more here.
Cheap Car Rental On-Site
Irish Car Rentals offers car hire at Dublin Airport with desks in Terminal 1 and Terminal 2.

Our car hire reservation teams will be waiting to greet you, guide you through the entire rental process and take you to the cars on-site or at the car rental depot. Europcar services all Irish Car Rentals' customers in Ireland.

Both Dublin Airport Terminal 1 and Terminal 2 are located beside each other, and are connected by a covered walkway. The close proximity of the two terminals means that transfers between terminals at Dublin Airport are relatively simple.
Dublin Airport Terminal 1
If you are arriving at Dublin Airport Terminal 1, once you have exited customs, turn right and you will see the car hire desks located on your left-hand side. The main airline carriers operates at terminal 1 are Ryanair, Air France, British Airways, and Flybe.
Dublin Airport Terminal 2
When you exit customs at Terminal 2, follow the signs for 'Car Hire' which will point straight ahead. The main airlines that arrive at Terminal 2 are Aer Lingus, America Airlines, Delta Air Lines and Emirates. The branches opening hours can be found at the bottom.

For more information about collecting car rental from either Terminals, please click here
Returning Your Car Rental:
To return your Dublin airport car, you will receive a return map with Dublin Airport address and written directions when you pick up your Car.
Rental Fleet
With cheap car rental prices and a large rental fleet vehicles on offer, you can budget and meet your space requirements. Irish Car Rentals carry a full range of car types such as Economy cars, Compact cars, Intermediate cars, Full size vehicles, People carrier, and SUV's.

These are some of our selection of vehicles type for rent. To see the full list, click here


Dublin Airport serves as the first step for many travelling to Ireland, particularly those traveling from the United States and United Kingdom. Its direct road links to so many major destinations ensures that wherever you need to be, you're never more than a few hours' drive away.

Hiring a car to tour Ireland has been a popular vacation for years. The Ireland's tourism authorities have lent a helping hand by marking and promoting driving routes that allow visitors to maximize their time and experience.

Presented here are two of Ireland's most popular driving tours in :
The Wild Atlantic Way
Ireland's premier touring route, Wild Atlantic Way is a 2500 kilometres of untamed, unspoiled countryside that follows along Ireland's Atlantic shores. This driving tour features 157 discovery points, and over 3500 attractions and activities.

Beginning in Kinsale, Co. Cork, and follows a signed route that takes you around the spectacular coastal roads, this route has proved extremely popular with our car hire customers.
When you are heading towards the West in your car from Dublin Airport, you'll encounter Dingle, the Ring of Kerry and the North Kerry Head peninsulas, considered to be some of Ireland's most outstanding countryside.

Take the cable car to Dursey Island as the night draws in and you can experience 'Europe's last sunset', as you are as west as you can go before you reach America.
In Co. Clare, the magnificent Cliffs of Moher, the mysterious Aran Islands, and some remarkable views of the mouth of the River Shannon, from Loop Head Lighthouse, bring visitors from all over, regardless of the weather or the time of year.
The Connemara Loop and lively Galway City await you in Co. Galway. On the southern Connemara beaches, you may even see the famous ponies making their way across low tide to the distant islands beyond.
In Co. Mayo, the awesome sight of Croagh Patrick mountain looms over the surrounding countryside, and you can take a road bridge to Achill Island and visit its strange deserted village. Sligo seaside town is famous for its seafood and surfing, thanks to the waves off Mullaghmore Head.
Continuing north, you'll soon find Ireland's northernmost county, Donegal. Here, Europe's highest sea cliffs, known as Sliabh Laig, the enigmatic Tory Island, and the spectacular Five Finger Strand beach on the Irishtown peninsula can all be found.

If you check the weather at the right time of year, Donegal can also be a fantastic setting from which to experience the aurora borealis which will make you realize the car hire experience was truly worth it.
With our detailed road trip itineraries, it's possible to complete the route in a week or two.
Ireland's Ancient East
Involving seventeen counties and over 5,000 years of history, touring Ireland's Ancient East allows you to journey through the history, myths, and legends that helped forge Ireland's reputation as a land of magic and wonder.
Ireland's Ancient East is a new 'touring region' that has proved popular with visitors, it features these unique areas:
The Land of 5000 Dawns includes the counties Cavan, Longford, Louth, Meath, Monaghan, and Westmeath. From the woodland trails of Belvedere House to the ancient passage tombs of Newgrange, history, myth, and legend meet dramatically in nearly every valley or village. Also in the land of 5000 Dawns is much of the beautiful Boyne Valley, along with all the attractions and ancient sites it encompasses, some dating back as far as 3200BC.
Ireland's Ancient East has no set touring route, it's more of a collection themed driving routes, guided and self-guided walks, festivals, events and river tours designed to complement the existing heritage sites, buildings and monuments, and to allow a truly exceptional experience for all its visitors.

If you are planning to visit Ireland in , booking a car rental in Dublin Airport is a must for an experience you will never forget.
Our Address:
EUROPCAR Desk,
Main Arrivals Hall
Dublin Airport
Co Dublin
Ireland
Our Contact Numbers:
Telephone Number: +353 1 8122820
Fax Number: +353 1 8445084
Emergency Telephone Number: +353 1 844 1944
Email Address: rent@carhire.ie Contact Us
Opening Times: Opening Times
Dublin Airport Ireland Map
Where is Dublin Airport located?
Dublin Airport to the city is located 10km north and is close to the M50 orbital motorway around Dublin.

From the airport, there are direct motorway connections to Dublin City, Galway, Belfast, Cork and Limerick. This is one of the many reasons why tourists choose Dublin Airport as their starting point.

Address: Dublin Airport, Co. Dublin, Ireland
Public Transport from Airport
Dublin Airport is serviced by more than 700 buses each day. Both terminals have bus stops serviced primarily by Dublin Bus and AirCoach with other providers offering services to specific destinations around Ireland.

Both terminals also offer passengers a sheltered taxi rank that is monitored by Airport staff. Taxi fares from Dublin Airport to the City Centre typically costing €25.

The Dublin port location is 12km from Dublin Airport, 15 minute drive. Dublin port car hire services are also available from Lombard street.

If you have any enquiries regarding Irish Car Rentals cheap car rental services or if you have any questions on Dublin airport car rental , please do not hesitate to contact us.