Quote
Where we are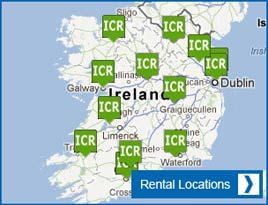 Athlone City Guide
Things to do in the area
Athlone Location
Athlone is a thriving town situated at the geographical heart and centre of Ireland. It's roughly halfway between Dublin and Galway on the M6 motorway, and this makes the town well-suited for conferences, trade shows and conventions. These are hosted by major hotels including the Radisson, Sheraton, Prince of Wales and Hodson Bay. However, it's not all business in this thriving town. The riverside Athlone castle is a major tourist attraction, and shoppers come from across the region for local deals and discounts.

Some visitors drive to Athlone in a hire car from Dublin or Galway. Others prefer to connect here via public transport and arrange their rental at the local Athlone depot. It is located west of the River Shannon on Route 362, about a kilometre north-east of its intersection with the M6.
This is convenient area for the depot to be located. Most of the town's facilities are on the opposite bank of the river. However, there are several petrol filing stations close to the Motorpark, so it's easy to fill up your vehicle before you return it. That said, Irish Car Rentals can also sell you your first tank of gas when you pick it up so that there is no need to refuel before dropping it off.
As mentioned, many people who arrive in Athlone are either coming or going from elsewhere in the country. With that in mind, the following cities are easy to reach by hire car from Athlone:
Roscommon (19 miles north of Athlone)
Roscommon is famous for its prehistoric sites. In fact, there are reportedly more than 5,000 megalithic tombs, burial mounts, ring forts and other similar sites in the area. Needless to say, the River Shannon valley was a hotbed of prehistoric activity, and drivers with a rental car and Athlone can connect here in a mere 30 minutes.
Galway (54 miles west of Athlone)
One Ireland's most lively and important cities, Galway can be reached in about an hour's drive from Athlone. Follow the M6 west from Athlone town centre to enjoy Galway's museums, galleries and bohemian nightlife. 
Galway popular attractions
Dublin (76 miles east of Athlone)
Athlone's proximity to Dublin makes it a popular venue for conventions in Ireland. It takes around 1 hour, 30 minutes to drive between Athlone and Dublin. Simply follow the M6 east to Dublin, changing over to the M4 at roughly the halfway point. 
Limerick (93 miles south of Athlone)
Those based in Athlone are not that far from Limerick, either. There are two ways to connect. Route 438 connects all the way through – heading south from Athlone. However, it's faster to follow the M6 west from Athlone, before heading south on the M18. This route passes through Loughrea and Ennis before delivering drivers to Limerick. 
If you have any enquiries regarding car hire in Athlone, please do not hesitate to contact us.