The General Post Office (GPO)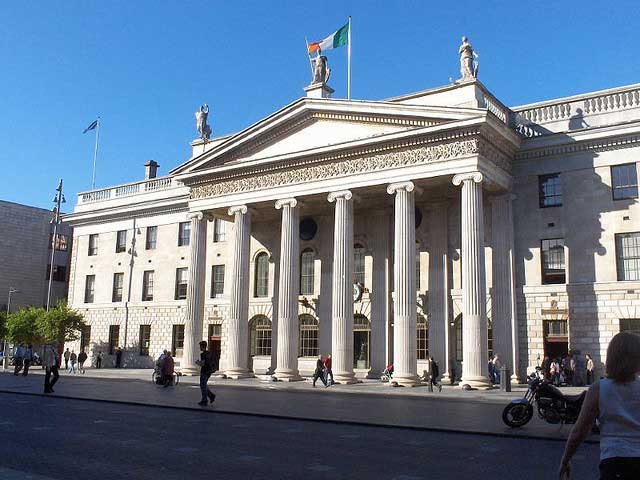 Image credit: fabiopaoleri
The GPO is a prominent landmark in Dublin. It stands out for its Georgian architecture as well as the important historic role it played in the Easter Rising. Construction began in 1814 at its prominent O'Connell Street location, and the GPO was the last great Georgian building constructed here in the capital.

On Easter Sunday in 1916, resistance leader Patrick Pearse issued a dramatic proclamation from the steps of the GPO. He announced Ireland's independence from foreign rule and reiterated the Irish people's demands for sovereignty and a free national state. Pearse was in good company on that day, and he and his followers proceeded to bar themselves inside the GPO.

The siege that followed virtually destroyed the building, as well as the Custom House and the Four Courts. Restoration began shortly after, just in time for the Irish Civil War to break out and inflict even more damage on the GPO. The Irish Free State took up its restoration after this.

The building became a symbol of Irish nationalism due to the role it played in the independence movement. Despite this, a consortium of English and American landlords continued to collect rent until the 1980s. 

The façade is part of the GPO's original construction. Inside is a memorial depicting the death of CĂșchulainn, a mythical Irish hero. CĂșchulainn was the son of a god, and his exploits have been likened to those of Achilles. He was fierce in battle and could morph into an Incredible Hulk style monster that didn't bother to distinguish between enemies and friends. 

There's a small museum in the GPO with about the Easter Rising. The exhibit is called "Letters, Lives and Liberty", and it includes the original Declaration of Independence read by Pearse.
Learn more about the GPO museum on the Ireland Post website.
Things to do in Dublin related articles: