About Garinish Island, County Cork

Garinish Island by Joe Shoe
Also known as Ilnacullin (or the 'Island of Holly'), the Garinish Islands are located in Bantry Bay offshore of County Cork. Thousands of tourists come each year to enjoy the island's well-manicured gardens.
This is one of the few Irish islands in which the focus is not on traditional culture, ancient ruins or wildlife. In fact, most of the attractions on Garinish Island are not particularly ancient – at least not in terms of Irish time. However, the gardens are spellbinding and well worth visiting while spending time in Cork.
About 70 years ago, Annan Bryce teamed up with Harold Peto. The former owned the island, and the latter was an architect and avid gardener. The island's unique geographical position – more specifically, the fact that it is sheltered and in the path of the Gulf Stream – give it an unusual, nearly subtropical climate that is perfect for growing ornamental plants. With this as their inspiration, Bryce and Peto worked in tandem to create a lush island paradise.
They finished their work and bequeathed the island to the people of Ireland in 1953. Dramatic changes come with each season. Azaleas and rhododendrons bloom from May to June, and they're followed by climbing plants, perennials and shrubs during midsummer. Â 
The primary site on the island is the Italianate garden, but there are other attractions as well. A Classical Greek-style temple stands at the end of a row of cypress trees, and the Martello Tower offers panoramic views of the seas. The latter was built before the gardens to defend against invasion during the Napoleonic Wars.   
To reach the Garinish Islands, book passage on a ferry from Glengarriff. The voyage only takes ten minutes. Bear in mind, visitors are charged both for the ferry ride as well as for access to the island.
Photos of Garinish Island:

Garinish Island. Photo credit: Joe Shoe

Seals on Garinish Island. Photo credit: Wendy Cutler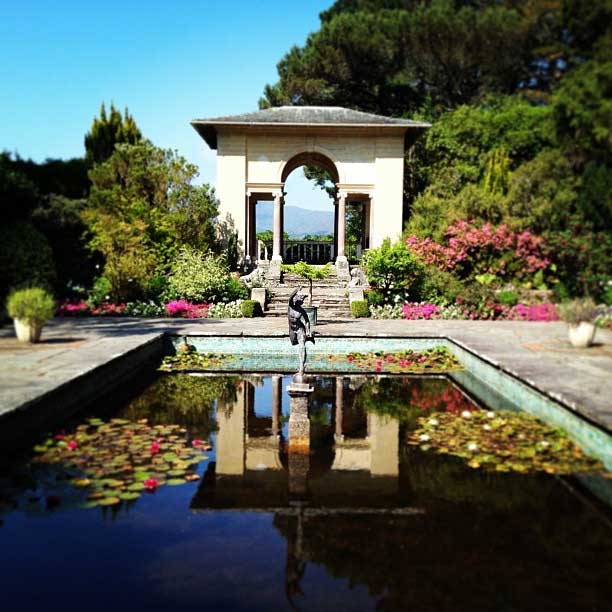 Garden view on Garinish Island by IrishFireside
Things to do in Ireland related articles: