Quote
Dublin Airport Guide
Site Search

Dublin Zoo
The Dublin Zoo was founded in 1830, which makes it the third-oldest zoo in the world. It's also one of the country's most popular tourist attractions, with more than million visitors each year. This puts it in the same league as another Dublin favourite, the Guinness Storehouse.

Visiting the Dublin Zoo is an ideal activity for families with children, or just about anyone else with the least bit of interest in animals and global conservation efforts. It's a registered charity and remains a world leader in lion breeding. That's not a recent development, either. Work with lions began here more than 150 years ago. One of the products of the breeding campaign is even a national celebrity. He roars at the beginning of every MGM film.

You can see the lions lounging about the African Plains habitat. It's put together like a scaled-down safari. A troupe of chimpanzees forages for honey and other treats hidden around the habitat. Visitors will also spot zebras, giraffes, rhinos and wild canines.



"The Plains"- Dublin Zoo. Image credit: Brian Hughes
Several other habitats are also on the agenda. Lowland gorillas congregate on rocky outcroppings and forage through the vegetation of the
Gorilla Rainforest
. The
Kaziranga Forest Trail
highlights Asian elephants, while the
House of Reptiles
is a shrine to cold blood, fangs and venom.
If you're looking for the classic Ireland experience, head to the
Family Farm
habitat. The sheep, ducks, pigs and rabbits may not be exotic, but they provide little ones with plenty of up-close interaction. Â Â Â Â Â Â  Â 
A food court in the zoo serves fast food and snacks. It's also common for visitors to bring their own lunch and take picnic in facilities provided by the zoo.
Check out the Dublin Zoo's live cams for a look at a few local celebrities, including the penguins, elephants and a few of the key players on the African Savannah habitat.
Photos of Dublin Zoo:

Dublin Zoo Entrance. Photo credit: Rory Parle



Chameleon at Dublin Zoo! Photo credit: Susan



Cheeky time at Dublin Zoo. Image ©: Sinead McCarthy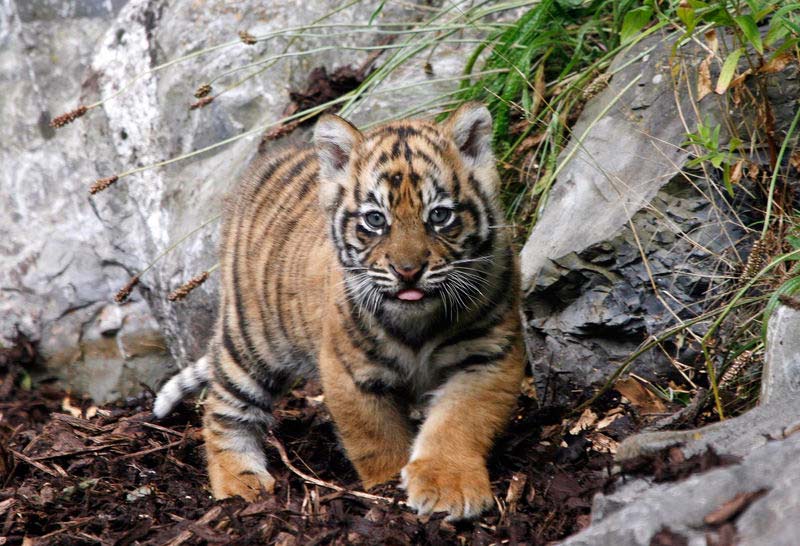 Tiger cub at Dublin Zoo. Image ©: Sinead McCarthy
Things to do in Dublin related articles: