Visiting A Castle
Ireland is famous for its castles. They riddle the countryside and guard its rocky coast. While many of the most famous medieval fortresses are located outside of County Dublin, there are still several that visitors can easily see whilst staying in the capital. The following are among the highlights:      

Malahide Castle
It's rare for a castle to remain with a single family for several centuries on end, but the Talbot family maintained its grasp on Malahide Castle from 1185 to 1976 when the family sold it. To be fair, Oliver Cromwell wrested control for a little over a decade in the 17th century, but that barely counts in the face of 800 years. Period furniture, beautiful walled gardens and an original medieval great hall are highlights. Malahide Castle's website

Dublin Castle
Centuries of history underline Dublin Castle, though the building as it stands today dates mostly to the 1700s. Located off of Dame Street in the city centre, this is the easiest castle to visit in Dublin. While most of what you see is not particularly ancient, the prominent Record Tower was built by King John in the 13th century. Dublin Castle's website

Ardgillan Castle
Located in Dublin's northern suburbs, this 18th-century country house features turrets, towers and other castellated embellishments. It perches on the edge of the Irish Sea and is flanked with extensive walking paths that offer spectacular coastal views. The ground floor of the castle is open to the public, and guided tours are available. There's also an attractive rose garden with a small café on site.

Drimnagh Castle
This is the only castle in Ireland with a proper flooded moat. The surviving buildings date to the 15th and 16th centuries. Some restoration has been carried out, but the work is far from finished.

Ashtown Castle
This tall, compact structure is more of a tower than a castle. It was discovered inside of another building in Phoenix Park in the 1970s and has been fully restored. It's near the Phoenix Park Visitor Centre.

Fitzpatrick Castle
In the southern suburbs of Dublin, Fitzpatrick Castle is decked out in turrets, towers and battlements. It doubles as a four-star hotel with more than 100 guestrooms and modern amenities.
Photos of Castles in Dublin & Surrounding areas: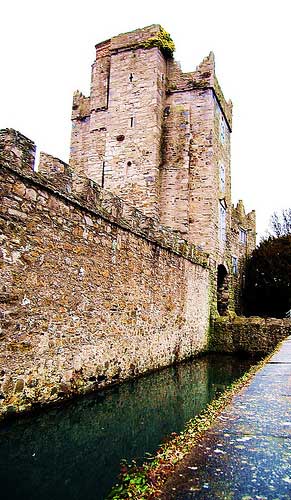 Drimnagh Castle Moat. Photo credit: Robynlou8



Dublin Castle



Malahide Castle. Photo credit: infomatique

Things to do in Ireland related articles: