Quote
Where we are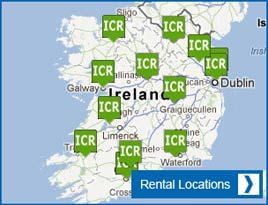 Cork City Guide
Site Search

What to do in Cork City : 10 things to do
The Rebel County is jam-packed with things to do and wonderful ways to while away the hours. Whether it's a romantic weekend break you fancy, or a jolly holiday for the whole family; try Cork City or County. Cork City boasts a vibrant arts scene and a huge diversity of shops, eateries and more than its fair share of history.
1. The English Market
The English Market
in the heart of the city is a buzzing hive of activity, with everything for the foodies. A wide selection of produce from local artisans and far off lands ensures a feast for all the senses under one roof. With restaurants and cafes, stalls and shops, the English Market is a perfect destination for a rainy-day-out without ever getting wet!

English Market, Cork. Image thanks to ©Tourism Ireland
2. Guinness Jazz Festival
Come to Cork in late October when music and rhythm take over the city. The beloved Guinness International Jazz Festival is anticipating its 35th anniversary in 2013, and has played host to such legendary performers as Ella Fitzgerald, Dizzy Gillespie, and Stephane Grappelli. What an illustrious list!

Guinness Jazz Festival. Image thanks to ©Tourism Ireland
3. Cork International Film Festival
Cork's own Opera House runs musical and theatrical productions all year round; but every autumn it is home to Cork International Film Festival. Movie connoisseurs are sure to delight in the Festival's programme which has run annually since 1956. It has become an internationally renowned proving ground for young directors, especially in the category of short and documentary films.
4. Elizabeth Fort
Elizabeth Fort on the city's southern side is a testament to an age of intrigue and gunpowder. Dating to the 17th century, this fortification has played many roles in the long history of the city, military prison, army barracks and police station. Seasonal craft fairs are now regularly held there.
University College Cork is as grand as its founder; Queen Victoria.
5. Lewis Glucksman Art Gallery
The Lewis Glucksman Art Gallery is situated on the U.C.C. campus and offers fine dining in the on-site restaurant.  With fine art, great food and elegant surroundings, U.C.C. is a haven of refinement.
6. Cobh
With an extensive coastline, Cork's maritime heritage is rich and historical. Just a short train ride from Cork city and within the bounds of the great harbour, we find the picturesque town of Cobh. The seafaring tradition is deep-rooted here and it is from this very port that the legendary Titanic last weighed anchor for its ill-fated voyage. Cobh's museum dedicated to this iconic ship really brings its story to life.

English Market, Cork. Image thanks to ©Leo Byrne
7. Fota Wildlife Park/Zoo
For the nature-buff Fota Wildlife Park is a must-see. Ideal for families, kids and grown-ups alike will revel in the opportunity to get up-close to giraffe, bison, penguins, monkeys and cheetahs. Some of the animals are free to roam and mingle with the visitors of the park. Watch out that the ring-tailed lemurs don't try to steal your picnic! Visit
Fota Wildlife Park
8. Youghal Seaside town
Further along the east coast lies the beautiful seaside town of Youghal, home of the Elizabethan adventurer Sir Walter Raleigh. Locals assert the claim that the first potatoes in Europe were planted there and that the first pipe tobacco was smoked there too, by the man himself. With a stunning 12th century church to explore, as well as the still-intact medieval town walls, Youghal yields history and mystery.
9. Clonakilty
Heading west along the coast the golden sands of Inchydoney beckon. Within a stone's throw of the bustling gateway to the west that is Clonakilty town, the area is a great base for the independent traveller. Take a surf lesson in the azure Atlantic or pamper yourself at the Inchydoney Lodge and Spa. You can't go wrong if you make for 'Clon'.

Inchlydoney Beach, Co Cork. Image thanks © Chris Hill
10. Schull Planetarium
Still travelling due west,
Schull Planetarium
is out of this world! Why not take a boat ride out from Baltimore to Sherkin Island for a session and a dip in Roaringwater Bay. Don't worry, you'll be safe. The dreaded pirates have long-gone from that part of the coast!
Whatever you choose to do and see in Cork, you won't be disappointed!
Things to do in Ireland related articles:
If you would like to book car rental for your trip, please click here.